ZTE wins four prestigious awards at the 20th Selular Awards 2023
2023-07-20
ZTE won four awards at the 20th Selular Awards 2023 held in Indonesia: Best Practice for 5G Network, Best Fiber Access Solution Provider, Best Laptop for Business, and Most Cutting Edge Infrastructure Solutions
ZTE has been recognized for its outstanding contributions to Indonesia's telecommunications and information technology industry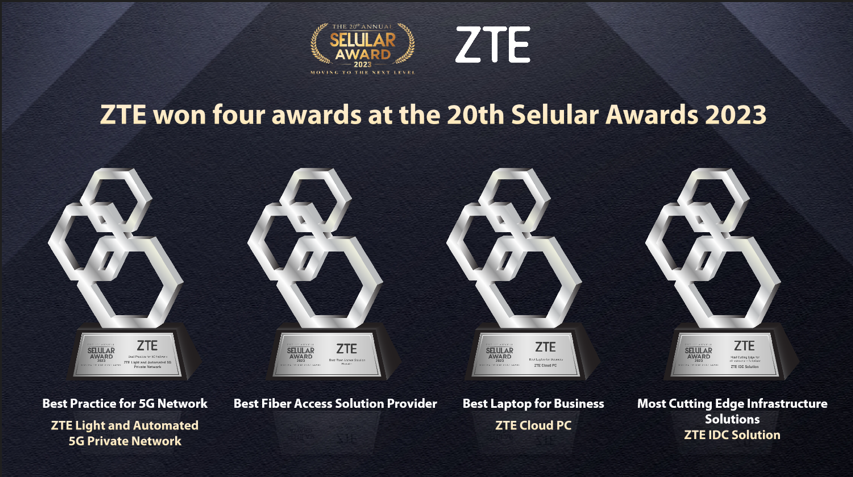 Jakarta, Indonesia, 19 July 2023 - ZTE Corporation (0763.HK / 000063.SZ), a global leading provider of information and communication technology solutions, is delighted to announce its remarkable achievement at the 20th Selular Awards 2023 held in Indonesia. ZTE won four awards at this prestigious event: Best Practice for 5G Network, Best Fiber Access Solution Provider, Best Laptop for Business, and Most Cutting-Edge Infrastructure Solutions.
The annual Selular Awards recognize the achievements of telecommunications industry players in Indonesia. ZTE has been recognized for its outstanding contributions to Indonesia's telecommunications and information technology industry.
Kevin Fang, Marketing Director of ZTE Indonesia, said, "We are honored to receive these prestigious awards at the 20th Selular Awards. These awards recognize our dedication to delivering advanced 5G solutions, expanding network capabilities, providing efficient computing solutions, and offering cutting-edge infrastructure solutions. We are truly grateful for the trust and support of our strategic partners, which have been instrumental in our success. We will continue to work closely with our partners and customers to promote the intelligent development of all industries and create a better future with technology."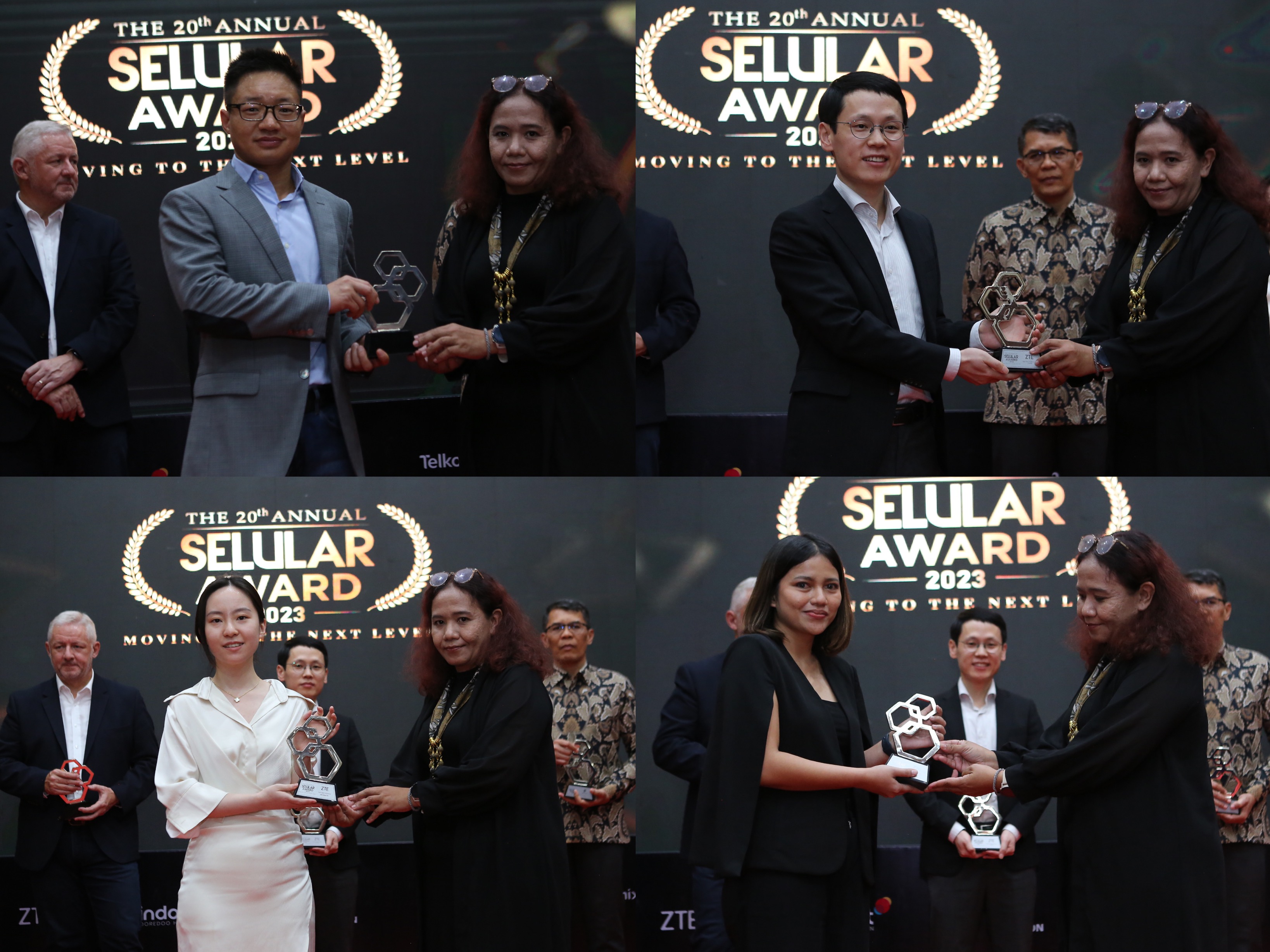 Best Practice for 5G Network: ZTE Light and Automated 5G Private Network
ZTE's 5G private network solution, which provides customers with two product-based solutions, i5GC (industrial private network product series) and iCube (digital magic cube integrating the cloud, network, service and O&M), has been recognized as the Best Practice for 5G Network. The i5GC solution helps customers build a simplified, professional, fast, and highly reliable industrial private network. Its lightweight, low-cost, design-free, easy O&M, and one-click commissioning features make it easy for customers to purchase, build, and maintain 5G private networks.
ZTE iCube, with i5GC as its basic capability, integrates wireless, wired, transmission, MEC and third-party applications on demand to build the cloud network infrastructure. iCube provides dual-core cloud infrastructure driven by VMs and containers to provide the connectivity and computing power resources required by the industrial customers.
ZTE's private network solutions have been put into large-scale commercial use in both domestic and overseas markets, and have been piloted in key industries including mining and transportation.
Best Fiber Access Solution Provider
ZTE's fiber access solutions have surpassed 500 million units in cumulative global shipments of fixed network CPEs and have been recognized as the Best Fiber Access Solution Provider. This includes a delivery of over ten million units to countries such as Spain, Brazil, Indonesia, and Egypt. ZTE is committed to building sustainable and high-capacity FTTH networks with innovative product solutions. The solutions combine the same generation of PON and Wi-Fi technologies to offer end-to-end wireline and wireless high-speed network connections.
In the scenarios of families and small/medium-sized enterprises (SME), ZTE believes that the development of FTTR is a general trend. The FTTR solution can efficiently build an internal network for families and enterprises to support operators in expanding brand-new broadband networking services and business models, as well as tapping into the potential market of smart homes and SMEs.
Best Laptop for Business: ZTE Cloud PC
ZTE's Cloud PC, which is as small as a business card and weighs just 55 grams, won the Best Laptop for Business award.
The cloud terminal has a meticulously designed embedded Android system, ensuring fortified online security and top-notch data protection. With data securely encrypted and stored in the cloud, users can enjoy cloud services worry-free and experience unparalleled peace of mind.
The cloud terminal excels in energy-saving performance, with a typical power consumption of only 2 watts, making it environmentally friendly.
Most Cutting-Edge Infrastructure Solutions: ZTE IDC Solution
ZTE's IDC solutions have won the Most Cutting-Edge Infrastructure Solutions award. ZTE provides customers with a comprehensive IDC solution, which includes modular data center solutions, container data center solutions, and micro-modular data center solutions. The solutions are designed to meet the needs of different industries and scenarios, providing customers with flexible, efficient, and intelligent data center solutions.
ZTE has made significant contributions to Indonesia's telecommunications industry through various initiatives. The company's partnerships with some of the country's largest mobile operators have been instrumental in developing 2G networks to the cutting-edge technology of 5G, providing faster internet speeds to customers. ZTE has been actively involved in developing, deploying, and optimizing various generations of mobile networks, working closely with operators to meet the growing demands of Indonesian consumers and businesses.
The company has also introduced a 5G Rising Stars Program to develop local talent in telecommunications and information technology, which will help Indonesia develop its human resources.
ZTE's contributions have positioned it as a key player in advancing Indonesia's telecommunications infrastructure. The company's recent recognition at The 20th Selular Awards 2023 underscores its dedication to delivering top-notch solutions and driving innovation in the telecommunications industry, setting new standards for 5G networks, fiber access, business laptops, and infrastructure solutions.