ZTE vSBC passed VMware Ready for NFV certification, IMS whole line products implemented VMware brand integration
2017-02-22
ZTE vSBC got official certification of VMware Ready for NFV successfully on February 23rd, 2017, completely supporting vSphere 6.0 U2, vCloud Director 8.10, NSX 6.2.2 and Virtual SAN™ Standard 6.2. 'VMware Ready for NFV Certified Partners' of VMware official website shows ZTE vSBC solutions already, please refer to the following website for details:
https://solutionexchange.vmware.com/store/products/zte-vsbc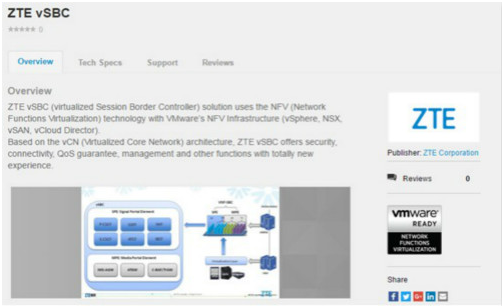 After completion of ZTE vIMS certification in December, 2016, it enabled ZTE vSBC certification immediately. Staffs like Guan Jianchi and Xu Jinye from CCN department four overcame time difference between USA, India and China, after more than one month, they implement test items passed with 100% success. This certification passed indicates that IMS whole line products implement VMware brand integration. Both ZTE vIMS and vSBC pass compatibility certification of Opensatck, based on which, VMware Ready for NFV certification proves openness and compatibility of ZTE CN fully.
ZTE vSBC architecture based on signaling media detach supports CU detach which supports inter-DC deployment. With flexible deployment method, 99.999% telecommunication level high reliability and powerful CODEC ability, ZTE vSBC takes the lead worldwide all the time.
Authorized use of VMware icon: