ZTE vEPC passed Red Hat Certification with further enhancement on brand integration capability
2017-04-27
Red Hat announced that ZTE vEPC passed Red Hat OpenStack Platform 8.0 certification on April 21st, 2017, and released ZTE vEPC solution in the certification query system of Red Hat official website, indicating ZTE vEPC solution is compatible with OpenStack Platform 8.0 platform of Red Hat completely as reliable technical partner.
ZTE vEPC implements decoupling of software & hardware with virtualization architecture, which not only has fast response to users, market requirement, fast deployment of network, fast online of service and flexible scheduling of resources, but also reduces OM cost for operators. Currently, virtualization layer has two mainstream vendors of open source Openstack & private VMware, ZTE vEPC has passed VMware Ready for NFV certification in November, 2016, and it also completed Red Hat OpenStack certification, showing openness and compatibility of ZTE vEPC products completely.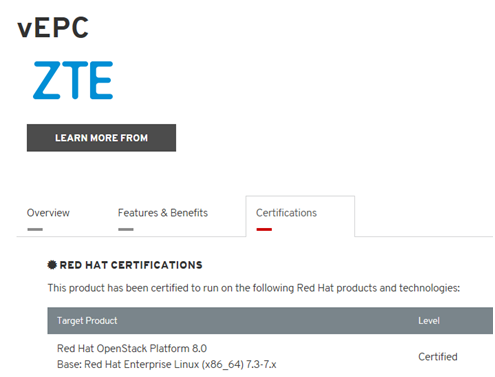 Red Hat certification requires self-establishment of environment in ZTE and completion of relevant test cases by ZTE, which is different from other certifications. This certification test started in February, 2017, integration team established Red Hat OpenStack environment according to 'director' method required by Red Hat with Red Hat specified certification test tools, executing test cases quickly. Recently, ZTE submitted test report was checked by Red Hat team and passed, completing the certification successfully.
Please refer to the following website for solutions: