ZTE Cloud Native Carrier DevOps Solution Unveiled in 2017 China (Beijing) SDN/NFV Conference
2017-02-25
On April 26 2017, China SDN/NFV conference was held in Beijing. He Wei, chief architect of ZTE telecom cloud and CN MANO products, attended the conference with Cloud Native Carrier DevOps Solution. On the subject of "Carrier DevOps Brings Telecom Industry Revolution", as 5G is approaching and under the background of NFV/SDN network speedy transition, He elaborated how to introduce the devops mode currently popular in IT into telecommunication industry to assist operators in boosting service innovation online for responding to market and meeting customer demand fast.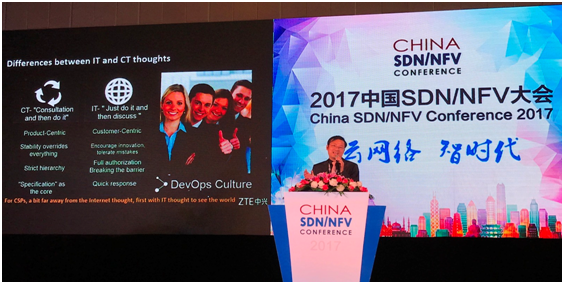 Under the brand new microservice architecture, ZTE Carrier DevOps Builder 2.0 platform adopts enhanced telecom-class Docker technology, it provides end-to-end plug and play 5G slice service customization and is compatible with 2/3/4G networks. It supports service full lifecycle management like minute-level deployment and second-level scalability. Besides, by using big data and AI technology, it can execute close-loop intelligent analysis and automated O&M hosting. By making full use of cloud native service open capability, this platform opens telecommunication pipeline capacity via openAPI to foreign applications like endless OTT, implementing ICT seamless integration and promoting telecommunication network cloud transformation.
He says, DevOps capability close-loop indicates unlimited expectations. Carrier DevOps platform not only can boost service online, but also can become a carrier-class IDE platform applicable to everyone. ZTE will rise to the challenge of 5G and construct a cooperation and win-win digital ecology, together with operators.
As a global leading telecommunication device and solution provider, ZTE has constantly been improving application scenario and commercial application capability verification, since successful demonstration of Cloud Native Carrier DevOps platform, the first commercially available application in the industry, at MWC Barcelona early this year. To welcome 5G era, ZTE will continue to enhance DevOps platform technical competence, in order to contribute to the large-scale commercial application of 5G slice scenarios like eMBB/uRLLC/MEC/mMTC and the development of industry chain, and to create more value for operators.