ZTE completed OPNFV based solution demonstration of vEPC /vIMS /vHSS/MANO successfully at OPNFV Plugfest Conference ompleted OPNFV based solution demonstration of vEPC /vIMS /vHSS/MANO successfully at OPNFV Plugfest Conference
2017-05-10
OPNFV held Plugfest conference in Paris France on April 24th-28th. ZTE completed OPNFV based solution demonstration of vEPC /vIMS /vHSS/MANO successfully at the conference. ZTE established OPNFV environment at OpenLab in Nanjing, based on which, initializing relevant NEs of MANO/vEPC /vIMS/ vHSS. At the conference in Paris, the participants performed remote access to the NE deployed on OPNFV in OpenLab via APP; with successful calling, they showed openness of ZTE vEPC /vIMS/ vHSS/MANO for participants.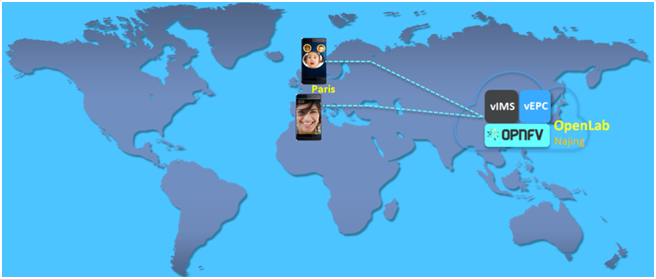 OPNFV(Open Platform for NFV) was founded in November, 2014, with the purpose of establishing an operator level integration open source reference platform, promoting NFV development and guaranteeing uniformity, performance and interconnection of multiple types of open source module. ZTE took an active part in OPNFV developed work as platinum membership. The successful demonstration at this OPNFV conference proves the openness and integration capability of ZTE vEPC /vIMS/ vHSS/MANO products further.
This remote demonstration of OpenLab receives good response. ZTE OpenLab devotes to creating lab of NFV global system integration, carrying out the work from integration certification, collaboration innovation, reconstruction evolvement and open source; it promotes integration of NFV solution and mainstream vendors with vertical & horizontal direction, which plays the role of window for construction of ZTE ecosystem.
Please refer to the following website for detailed demonstration:
https://wiki.opnfv.org/display/EVNT/Danube+Plugfest+Test+Cases