ZTE won three Technology Innovation Awards at 2017 global cloud computing open source meeting
2017-04-18
Global cloud computing open source meeting was solemnly held in Beijing national convention center on April 19th-20th, 2017, in which, ZTE virtual platform TECS, auto-installation/deployment device daisycloud-core and SDN controller platform OSCP had the honor to receive three 'OSCAR Open Source Technology Innovation Awards' issued by OSCAR.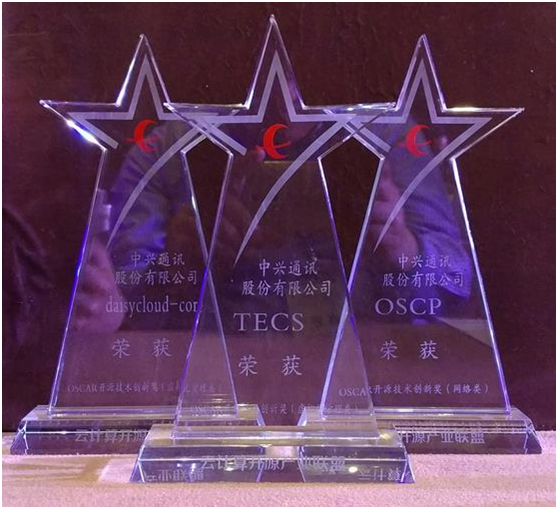 ZTE TECS (Tulip Elastic Cloud System) is cloud management platform based on mainstream open source item OpenStack, it takes the lead about performance, availability and reliability, satisfying requirement of IT & CT users concurrently. ZTE TECS is applicable for every fields such as telecom, education, medical, finance and government, obtaining high praise from many customers.
ZTE daisycloud-core is auto-installation/deployment device for virtual scenario by ZTE. Aggregation deployment of OpenStack/OPNFV scenario is very complex, ZTE daisycloud-core performs innovation research on many aspects such as GUI, version management and auto-capacity expansion for more automatic and efficient installation/deployment operation, so as to make great scale of aggregation upgrade & capacity expansion possible.
ZTE OSCP is based on hottest SDN open source item OpenDaylight currently, which experiences enhancement in many aspects such as performance, reliability, expansibility, usability, openness and standardization. Now, ZTE OSCP is applied to multiple SDN controller products, and it performs test and commercial use on multiple countries' operators, enterprises and schools in the world.
ZTE takes an active part in the establishment of NFV/SDN open ecosystem all the time as main contributor of open source communities such as OpenStack, OPNFV and CEPH; now, it has been the platinum membership of OPNFV & ONAP and gold membership of OpenStack. In the future, ZTE will continue the effort on commercial landing and open source contribution, prompting mature open source technology with partners and making open & win-win industry ecosystem.